There's just something about smooth skin. Women strive to rid their bodies of unwanted body hair, leaving behind silky smooth legs, hair-free underarms, and a neatly groomed – or even bare – bikini area.
Shaving to remove body hair is a task that is done sometimes on a daily basis, if not every other day. To get the closest, most effective shave, many women turn to shaving cream to facilitate the shaving process. Shaving creams and shaving gels are available in a wide variety of brands, styles, and fragrances, and they truly do impact the quality of your shave.
Hair-free is a preference many women share, determined to free their legs, underarms, and even bikini area of body hair. Shaving can become a fairly mechanical process over time, but nicks, cuts, and missed hairs still prevail time and time again. Using shaving cream offers a number of benefits for a closer shave, as well as a more luxurious shaving experience than simply using soap and water to shave.
A variety of different shaving creams, razors, and shaving products saturate the market, so it is important to test different items until you find the ones that work best for your body. Even though using shaving cream may take a little longer than shaving with the soap suds on your loofah, you will find the benefits of using shaving cream or shaving gel to be well worthwhile.

The Benefits of Using Shaving Cream
Shaving cream provides a smooth, close shave that is both gentle and accurate. Due to its thick consistency, shaving creams and shaving gels tend to stick to the skin better than soap suds. Can you imagine a man trying to shave his face with just soap and water? The results could be painful and disastrous. Why should we give our own body parts any less consideration?
Women can enjoy the various fragrances available for shaving creams, as well as the products' delightful moisturizing properties. Using shaving cream often leaves legs softer and free from dry skin longer than if using only soap and water to shave. Some shaving gels and creams actually contain nutrients and antioxidants.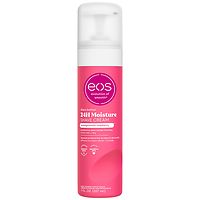 Shaving Cream Product Reviews – Two Hot Products to Leave Your Skin Silky Smooth
As research for this article, I had the pleasure to test various shaving techniques and products to determine a few things I would like to recommend. My favorite new shaving creams are eos and Gillette Satin Care Shave Gel in Alluring Avocado.
Firstly, eos (evolution of smooth) ultra moisturizing shave cream is available in three delightful fragrances – Pomegranate Raspberry, Island Blue, and Vanilla Bliss. I must admit – some of the fun of using these products is that two of them also incorporate a pretty hint of color to the cream. The eos shaving cream easily dispenses from an ergonomic, rust-proof bottle with a convenient pump dispenser. The bottle is plastic and easily recyclable, which also scores major points!
I would be remiss if I failed to mention another great feature of eos – you can use it wet or dry. The cream is thick and nourishing, and contains natural ingredients like aloe, oat, and shea butter, as well as antioxidant vitamins C + E. The skin on my legs didn't dry out after I dried off from the shower. In fact, my legs remained soft and smooth longer after the shave than when using just soap and water.
Gillette Satin Care Shave Gel in Alluring Avocado offers a full, foamy shaving solution, complete with aloe, jasmine, and orange blossom for a luxurious shaving experience. This product leaves skin soft and satiny smooth, and of course, moisturized to the max. The shaving gel comes in a traditional can with contents under pressure and a metal ring on the bottom, however, the pump releases gel in a smooth stream for perfect application directly on the body or dispensed into the hands.
I really loved the volume of Alluring Avocado's foam – and a little bit really does go a long way. This shaving product makes an everyday shave more effective and less like a chore. Gillette Satin Care Shave Gel offers a pleasant, calming fragrance and a supremely rich lather.
The Gillette Venus Embrace Razor is the perfect companion to either of these shaving cream products. The blades stay ever-so-sharp for what seems like an eternity of uses, and the razor's shape is perfect for contouring around the female anatomy.
The line of eos shaving cream retails for $4.99 and is available at Target, Wegmans and Drugstore.com. Gillette Satin Care Shave Gel in Alluring Avocado is available at Amazon.com for $2.99.